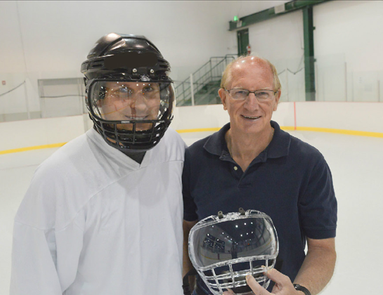 Our story is simple we created a half shield visor and a combo wire- polycarbonate combo mask in 1974.   Before this nobody wore any masks at all except goalies.  The coatings technology for optimum anti-fog coatings and scratch resistance was not invented till the mid-'90's.
In 2010 we restarted the company after Bill Everett, its founder enjoyed an senior executive career in cable, broadcast (NBC-Boston), digital technology and satellite TV at several of the leading US based companies spanning over 25 years.
Since 2010 we have brought to market the first two piece polycarbonte lens and cage frame for junior and senior players with exceptional high impact lens and multi-colored frames matching helmets or teams.
We've developed three senior masks designs and one junior mask and two visor styles.  We are on our way to a fourth Sr. Mask and another upgraded junior mask.
We poll our customer base and work with teams and equipment managers from Pro teams to colleges to youth hockey.  We want to make products you want.   If you call us we pick up the phone and love to hear from you because we're not into lip service we are here to get things done.

We Reinvented Hockey Masks
After reviewing the state of hockey masks and lens products available we went forward with a completely new design.  We wanted a product reminiscent of our initial invention in 1974 that even today has no equal. We wanted a combination lens 100% fog free both sides and scratch resistant and polycarbonate cage frame for both a Senior and Junior Model that came in any team color.  A first for hockey masks worldwide.
We went with a new two pieces all polycarbonate injection molded cage frame for our lens to conform inside. We engineered with form and function in mind and now have cage frame that is just 5.2 oz. and meets HECC impact requirement as does the lens. We wanted plenty of airflow and designed air-foils to direct and channel the air as you skate.
The AVISON AHEAD MASK incorporates all mandates seamlessly into a world class product line that is also certified by HECC for all levels of Ice Hockey
Visit our blog page to learn more about why you need a lens in front of your face vs. a square grid of impeding wire bars.
Will Everett, III (Right) has worn every mask from wire combo to each version of our polycarbonate masks and lens, and visors.  He can skate like the wind forward and backwards and still plays in the beer league.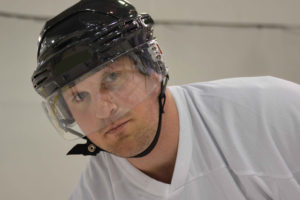 You need experts.  You want American and Canadian made products.  You need serious design, molding, manufacturing, testing.  Professional assembly, packaging, and immediate shipping capabilities to deliver to stores or customers.
We answer our phones by people not machines.  If we miss you we call you right back.
Denver, Colorado Injection Molding Facility
To insure optimum we try and work locally. Here is Bill Everett, founder, with one of our injection molds machines at the plant. We see exactly what goes into our molds and can inspect the quality of the workmanship immediately. Unlike others, who whose hockey masks are made in Thailand or elsewhere, we make several of our lens in North America and all assembly is local and shipped from Denver.